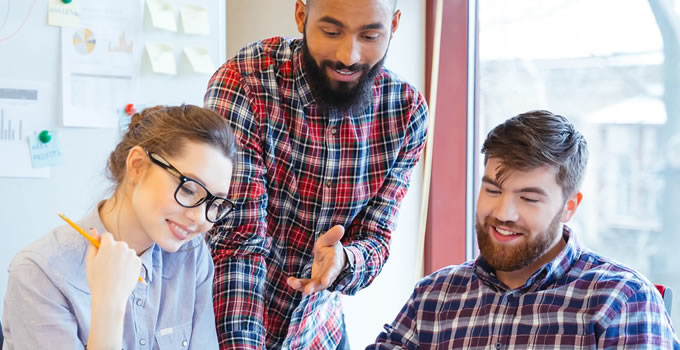 Contrary to what you probably think, having a perfectly groomed beard and a mustache has become a quite common sight in the business environment, even though everyone knows that it was simply unimaginable just a couple of decades ago, when fresh-shaven faces and slicked-back hair were the norm. However, everything has changed now, and we can confidently say that the public perception of facial hair has recently evolved from sloppy to powerful, which is definitely great news. We're here to help you out, so stay with us and keep on reading if you want to know how to grow your beard at work!  
Why are so many CEOs growing a beard?
A lot of CEOs are rocking a beard nowadays, and they are seen as bold risk-takers rather than undeserving leaders. This marks a great shift, and it is just a beginning of a mighty men's movement that's on the rise in the 21st century. This is exactly why a lot of successful men like Jack Dorsey, CEO of Twitter whose beard has its own Twitter account; Nolan Bushnell, the founder of Chuck E. Cheese's Pizza Time Theatre chain; and Richard Parsons, CEO of Time Warner, are stepping up their facial hair game and are rocking their scruff no matter what. Of course, we should emphasize that the beard and the confidence came way before the money, which means that growing a beard isn't a matter of newly-acquired confidence and millions in a bank account – but a matter of personal beliefs and timeless style.  
How to take your beard to work
Yes, we know that taking your beard to work may seem a bit problematic, challenging, and even controversial (depending on your working environment), so if you aren't really sure whether that's okay or not, you should start by asking yourself three crucial questions. The first one is: do I look unprofessional? If you think that your facial hair makes you look unprofessional, make sure to think again and realize what your main arguments are. Do you think that you don't perform as efficiently as other barefaced people just because you have a beard? Or that you aren't as professional and experienced as other barefaced people at the same position? Think about that. The second question is: does my beard hurt me professionally? This one is closely intertwined with the previous one, especially if you tend to think that you are less of a professional just because you're rocking a beard. Well, guess what? You most certainly aren't, so relax and give your best to do your job as efficiently as you can, because your effort, ideas, good will, time, and a lot of other factors matter much more than your appearance. The third question is: Do I feel looked down upon because of my beard? If the answer is yes, well, that definitely isn't your problem at all – short-sighted people are like that because of their personal beliefs, opinions, and frustration, and their attitude has nothing to do with you, but with them only. So, be proud to rock your beard at work and feel confident and proud of it no matter what!  
How to compliment your overall bearded look?
Speaking of your fashion choices that can complement your overall bearded look, we should say that literally anything can perfectly match a properly groomed beard, so be sure you take extra care of it in the first place. Of course,
tailored men's suits are never a bad choice
, especially when customized according to your body measurements. Such a suit is a fantastic option as it will emphasize all your good sides and cover the minor flaws, if any, helping your beard stand out and flawlessly blend into the whole combo. Speaking of ties, which are still going strong in the business environment, there are no rules at all – you can pick whichever you like in terms of patterns, fabrics, and colors, as all of them will go well with your scruff. Of course, if your job doesn't require such formal or semi-formal outfits, you can also nail your casual ones by picking a fitted polo shirt in your favorite color and pairing it with a pair of black or navy blue trousers. This combo is a match made in heaven simply because it's ordinary yet so effective, which is exactly what you need for a regular day at work or hanging out with your buddies afterward. Just throw on a bold leather jacket and you're ready to stun your girlfriend, too!
As you can see, growing a beard at work is much more acceptable nowadays than it was just a couple of decades ago. Even though it hasn't been fully accepted yet, there was definitely a significant shift which encouraged a lot of men to embrace their facial hair instead of seeing it as an obstacle that stands in the way towards their business goals. Once you realize that, too, you'll see a fantastic improvement!
Peter is a men's grooming editor for
TheBeardMag
and
HighStyleLife
magazine. Follow Peter on
Twitter
for more tips.